With the implementation of the EU MDR pushed back, but still on the horizon, having a quality management system is even more important for small medical device companies and suppliers to the medical device industry. You may already have a system in place, but is it rigorous enough? Or if you are just starting out, what are the most important features to put in place?
This presentation will break down the main sections of ISO 13485:2016 including defining what is necessary and what is not for your business. It will cover defining a quality policy, putting together a quality manual and setting up management and resource requirements. You will also learn what is needed in design and development, the importance of process validation and process monitoring and how to set up a system to collect data for ongoing improvement.
This talk will show how risk based assessment and good quality leadership form the basis of a good quality system, which will streamline design and manufacturing by providing objective evidence to decision making. Those who are interested in improving an existing quality system or building one from scratch should attend.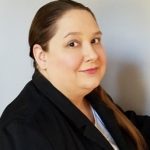 Michelle Jirak Michelle is currently a Senior Design Assurance Engineer at Biomerics Advanced Catheter in Brooklyn Park. Prior to that, she has worked in a similar capacity at Surmodics, Molex, Stryker and 3M, giving her over a decade of QMS, risk management, design and manufacturing experience. She has developed and enhanced multiple QMS, risk management and validation systems during her career and sees quality leadership as a must have at all organizational levels. Ms. Jirak has been a member of ASQ since 2013 and holds CRE, CQE, CQA and LSSGB certifications. She is also a member of the CRE Recertification Committee and CRE committee Liaison to the Reliability and Risk Division.