The biggest challenge for the leadership team in fast growing companies with a novel product line is fulfilling the ever growing, complex quality and regulatory requirements to manufacture, register and market their product quickly. This challenge gets magnified if their product is a diversified product that needs to fulfill pharmaceutical and medical device requirements in the FDA quality arena. In the current environment of global standardization of quality and regulatory needs, learning to understand and interpret the regulatory requirements is a must for market expansion.
Once the design engineers of a novel product with a huge marketing potential have fulfilled the proof of concept and design verification to fulfill the user needs, the leadership team wants the product to be manufactured and marketed immediately while the quality and regulatory teams often seem to stand in the way to FDA registration and marketing. For those of you who can relate to this urgency, every word of what is going to be presented here is going to be precious. This presentation provides a step by step approach to setting up a bullet proof quality management system (QMS) for novel medical products where devices and pharmaceuticals are packaged and marketed as one assembly. Strategically prioritizing and fulfilling the regulatory and quality requirements mandated under FDA's 21 CFR 210 for cGMP manufacturing, 21 CFR 211 for finished pharmaceuticals and seamlessly adding on 21 CFR 820 for specific medical device regulations will be clearly outlined.
After this presentation, you will walk away with:
A clear understanding of different areas of FDA regulations and their correlation to the respective ISO requirements to fulfill your QMS needs.
Strategic understanding of FDA expectations for your audit readiness.
Prioritization of the overlapping regulatory requirements over those that are unique to specific product category with vivid examples.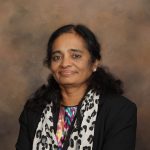 Meena Chettiar Meena Chettiar received her M.S in Regulatory Affairs for Medical Devices from St. Cloud State, University, M.S. in Chemical engineering from University of British Columbia and her B.S. and M.S in Applied Chemistry from the University of Madras. Meena worked for Health Canada for 10 years. During the past 20 years in Minnesota, she has held leadership positions in food, pharma and medical device industries. Currently she works as the Director of Quality and Regulatory for Welly Health, a fast growing start up hatched in Minnesota. Meena has been teaching as an adjunct instructor for the Master's Program in Medical Technology Quality at St. Cloud State University since 2013. Meena is the coauthor of QCI's Bio Medical Auditor Primer. Meena received the Distinguished Scientist Award from MFEST (Minnesota Federation of Engineering, Science and Technology) in 2018. She is now on the board of MFEST and MNASQ.