Old Problems, New Solutions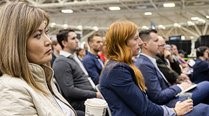 What will you learn?
The expertly curated educational conference features tracks filled with ideas and tools that will directly help you to advance your career, products and services. The two-day event includes topics ranging from basic to advanced, looks at the future of quality, and even soft skills. Conference attendees will be able to attend four tracks and will come away with solutions to problems they face in their jobs every day, along with inspiration to spur future innovations.​
​Continual Improvement & Metrics – Discover strategies and concepts for evaluating, analyzing, and driving ongoing quality system refinement. ​
Innovation & Tools – Learn about creative approaches and practices for enhancing the quality of products, services, and processes. ​
Leadership & Customer Focus – Explore the art of guiding and influencing organizations to best meet the expectations of interested parties.
​RAPS Regulatory 101 & 102 – Achieve an understanding of the regulations and pathways to putting a medical device on market, globally. Hear directly from someone within the U.S. FDA. ​